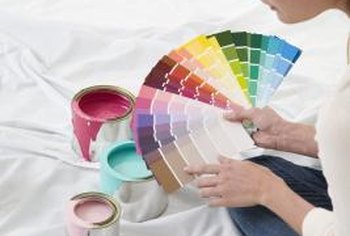 Choosing the best paint colors for your home is enough to make anyone crazy! It's only a simple question.
What color should I paint my living room?
How do I use unique colors in different rooms and make it all look great together? How do I know I will like it when I've completed? How long will I enjoy it? There are so many questions and even more choices to choose from!
All of this can be intimidating so most people just give up and select a version of white. It's a neutral, but usually it seems a little less than personable, right?
Well, I have a few suggestions which should help.
We want color! We need color!! Rooms look more inviting because colour somehow seems more alive. Zillow published an article last week that mentioned how homes even sell better when they're painted certain colors. There are a number of choices so we know we could find one that we like, but let's plan it out.
First, collect choices.
There are several sites that will'assist' you decide on a color. They show you exactly how many diverse choices they have and a number of them can even show you what it will look like in your room. This really is super useful, IF you want to work out how their program works. You can grab a handful of possibilities at a nearby hardware store, or you may look through magazines or online and save the colors that you like best. These are just to have something to begin with. I'll explain how to narrow it down, do not worry.
Secondly, consider the mood you want in the room. Relaxing? Energizing and uplifting? Socializing?
Then, have a second and consider what you'll look like when you're in the room.
I know, this is just a little bit unconventional. But really, do you ever notice that if you take a selfie, you look better with colour in your background? Like the blue skies, or flowers, or a maybe a cool red vehicle.
How many people run around the house, or even outside in the yard to have a quick selfie where the background color of a tree or the sky makes us look better than the boring white bathroom wall? When we feel we are at our best we are happier and recharge from the world much more quickly.
Fourth, figure out which colours complement you personally.
Some people look great in shades of blue, and many others look best in colors of orange. It only takes a couple of minutes to find out which color looks best on you.
Some Steps to Help Pick the Best Colors
Step 1 – Figure out which skin tone and hair color you have and then get suggestions of colours that will look best with your particular skin tone. Yes, like cosmetically. These tips will give us a nice variety of colors which we can use as a palette to choose from.
With this original palette is a fantastic start as it really narrows down the choices.
Step 2 – We know which colors make us look our best, we need to take into account the purpose of the room we are painting. This is similar, but slightly different from the mood of the space.
It would be smart to also think about the colors which are already in the furniture upholstery and art.
Coordinating colors always seem'put together', like we know precisely what we're doing.
Once you know the key colors that make you look best, and match with upholstery or curtains which you like, Adobe has a trendy Color Wheel tool. You may take your colours to the wheel and then plug them in one at a time and it'll show you which colours will complement or match with the one you have selected.
On my website I've explained in a bit more detail about color theory and how it subtly affects our moods. When you have your colour choices narrowed down to 3 or 4, you can take them to one of those sites which allow you to load photos of your room and then examine the color out in pictures.
This can make it much more easy to decide which colour to use.
If you like the idea I'm sharing here, take a look at my site for a more detailed description. There is also a movie with more thoughts and links to the cool tools that I've mentioned here.